JEFFERSONVILLE, Ind. (WDRB) — The airline industry is not the only mode of transportation that has been hit hard by the coronavirus pandemic.
The brakes are being pumped on the motor coach industry as well.
Many of the busses at Free Enterprise in Jeffersonville haven't moved in months. Spider webs hang on some of the outside mirrors. Free Enterprise COO John McCue said business is down nearly 98%. He's running only about seven of his 40 buses, ones that are usually used to take companies and fans to concerts and sporting events.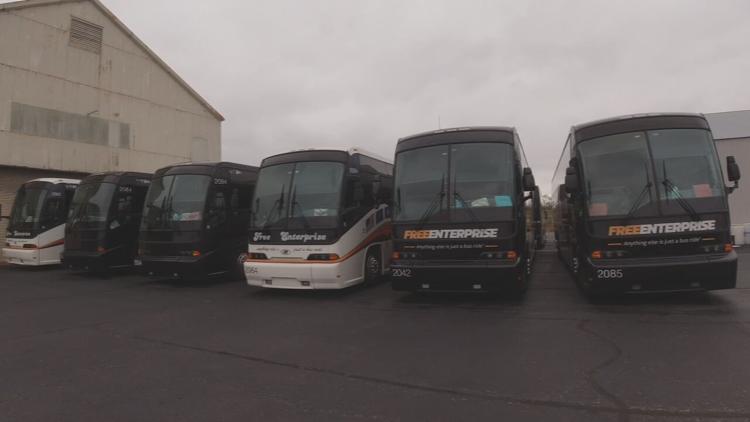 "The mass majority of the motor coaches you see on the road are privately-owned businesses just like us," McCue said.
McCue's company purchased four busses in March before the pandemic at a cost of $530,000 each. Two have sat parked. The other two have made a trip to Alabama to help FEMA with hurricane relief.
Since March, more than 80,000 of the industry employees have been furloughed.
Members of the American Bus Association have written letters to Congress for any bailout it can get — requesting at least $10 billion — since it works so closely with airlines. It's not clear if that will be included in the next COVID-19 relief bill from Congress.
"(Airlines) call us — literally, they call us — we pick up their passengers and we take them to Chicago or Detroit," McCue said. "The same thing with the cruise lines."
He offered several of his employees training and certification for a Commercial Driver's License (CDL) to drive some of the busses in order to keep them employed.
"Essentially we've become the forgotten industry … and it's heartbreaking," McCue said.
For now, it costs nearly $7,000 a month for each of the busses to stay parked. McCue is hoping to get more wheels back on the road in early 2021.
Copyright 2020 WDRB Media. All Rights Reserved.


Read More: Local bus companies struggling to get work during pandemic | News